The Sound Studies Initiative pleased to host Dr. Salomé Voegelin.
Salomé Voegelin is an artist and writer engaged in listening as a socio-political practice. Her work deals with the aesthetic, social and political realities that are hidden by the persuasiveness of a visual point of view. She is the author of Listening to Noise and Silence: Towards a Philosophy of Sound Art, Bloomsbury 2010, and Sonic Possible Worlds: Hearing the Continuum of Sound, Bloomsbury 2014. Voegelin is a Reader in Sound Arts at the London College of Communication, UAL.
When: Tuesday, February 13th 

at 3:30 p.m.
Where: Studio 2-7, Fine Arts Building

Light refreshments provided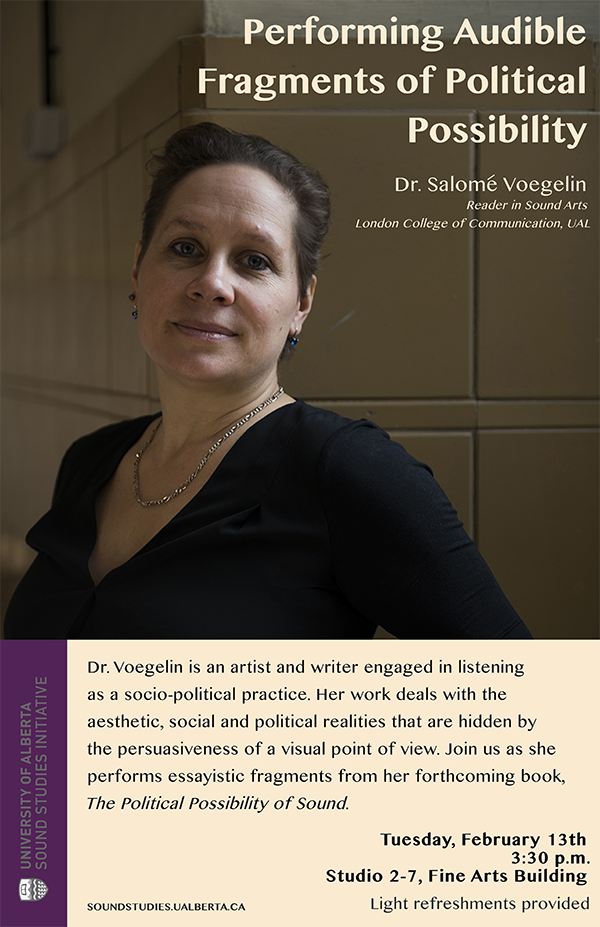 This talk is an attempt at performing rather than presenting the fragments that make up a collection of essays on The Political Possibility of Sound, to be published by Bloomsbury in 2018.
An essay is an improvisation, a trial of material that is not necessarily good or complete. Its porous and contingent nature forgives a lack of formality while the absence of good style and the neglect of technological perfection or virtuosity releases the potential for the incomplete and the unrealizable. Through its improvisatory and 'non-virtuous' nature it lends itself to performance rather than a lecture: to make unexpected connections and juxtapositions that reveal a different way things could be thought.
This performance of essayistic fragments practices rather than articulates between sonic cosmopolitanism and impossible geographies, between the indivisible volume of an auditory world, the speculative reality of the invisible and the audible and inaudible subjectivities that inhabit its sonic depth. It agitates sound's potential for interdisciplinarity and works across concerns to highlight the sonic in-between: sound is not 'this' or 'that', but is what things are together and thus it encourages a different thinking about the possibilities of the political.