On Weds, Sept. 27, flutist Paolo Bortolussi will perform a concert of new music for flute and electronics, and he will be accompanied by composer John Oliver. Both will offer an artist talk/master class at 4 PM, followed by a concert at 8 PM in Convocation Hall. Details:
Masterclass:  4 PM, Fine Arts Building room 2-28
Concert: 8 PM in Convocation Hall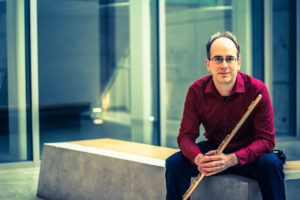 The program for the "Birds of Paradise Tour" is drawn from and expands upon the critically acclaimed album Israfel, which was released by Paolo Bortolussi on the Redshift label in the spring of 2016. The album led to two nominations at the Western Canadian Music Awards: Composition of the Year for John Oliver's Birds of Paradise Lost, as well as Classical Artist of the Year for flutist Paolo Bortolussi. The four works on the album highlight the spectrum of possibilities and challenges that have taken place in the world of electronic music. The earliest work, Israfel (1987) by Larry Lake, is a beautifully evocative work for amplified flute and tape, with no enhanced level of interactivity between the player and the electronic medium. Kaija Saariaho's masterwork for flute and electronics, NoaNoa, creates 63 pedal-controlled electronic events that combine live processing of the flutist's sound with electronic sounds and events. Keith Hamel, in Krishna's Flute, takes this interaction a step further, where the computer tracks the flutist's performance and adjust its timing based on what is happening in real time. Electronic events – be they live processing events or electronic sounds, can adjust continuously and vary in each performance. In John Oliver's Birds of Paradise Lost, almost all of the electronic sounds are generated from the performer's first few measures, in real time. The work unfolds with varying degrees of interaction between the computer musician processing the live sound, looping and playing back altered versions of it to interact with the live performer.  On this tour, we will add Elainie Lillios' Among Fireflies, for alto flute and electronics, which combines elements of live performer/electronic media interaction with improvisation pyrotechnic virtuosity! While these works present a fascinating study of how performer and electronic media have interacted and continue to evolve, the pieces in their own right are lush, romantic, beautiful works, and together create a very satisfying program.