We are very excited to host a talk this Wednesday (March 21) by the renowned Argentinian conductor and composer Miguel Bellusci, who will perform selections from Kagel's Die Stücke der Windrose as part of New Music Edmonton's 7th festival of new music (Holy Trinity Church, 7:30 p.m., March 23). The concert also features a work for string quartet and electronics by our own doctoral composition student Nicolás Arnáez, performed by the Vaughan String Quartet. It finishes with the world premiere of a Kagelian musical theatre piece by Bellusci himself.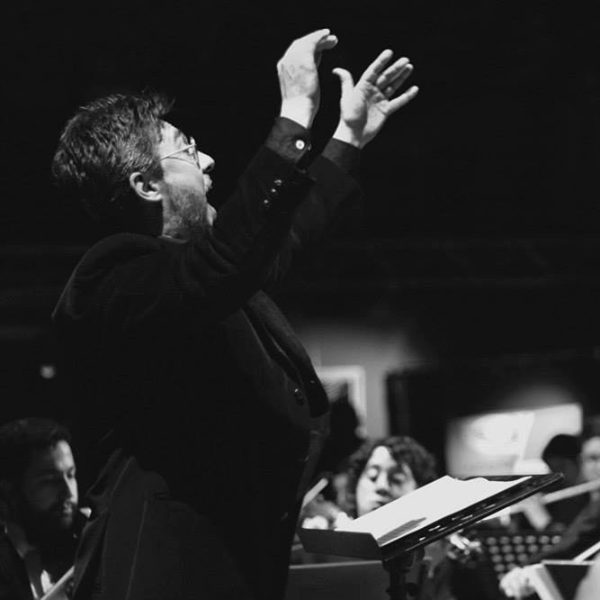 Composer Mauricio Kagel, who was born in Buenos Aires in 1931 and passed away in Cologne in 2008, lived the first 26 of his 77 years in his home city and the next 51 in Germany. In Argentina, Kagel was often considered a German composer, while in Germany, although his name had a prestige that broadly overcame his biographical data, he was frequently associated with his native home of Argentina. Elsewhere he often simply placed in the blurry category of "Latin American" composer.
For this talk, entitled "The Argentine in Kagel," Bellusci will trace the Argentinian elements of his works, an orientation which is essential in understanding his music.  Through diverse pieces such as Der Tribun, Mare Nostrum, Die Stücke der Windroseor, Tango alemán, and others, Bellusci will immerse us in Kagel's unique musical universe, including his formative years in Argentina which shaped his unique and distinctive style.  Bellusci will also touch on his own work as it relates to the concert on Friday, March 23, which will be presented as part of Now Hear This!, the 7th New Music Edmonton Festival of New Music.
Talk:  Wednesday, March 21, 4-5 PM
University of Alberta, Fine Arts Building, room 2-28
FREE and open the the public
Concert:  Friday, March 23, 7:30 PM
Holy Trinity Anglican Church (10037 84 Ave NW)
Buy tickets here (student rates available)